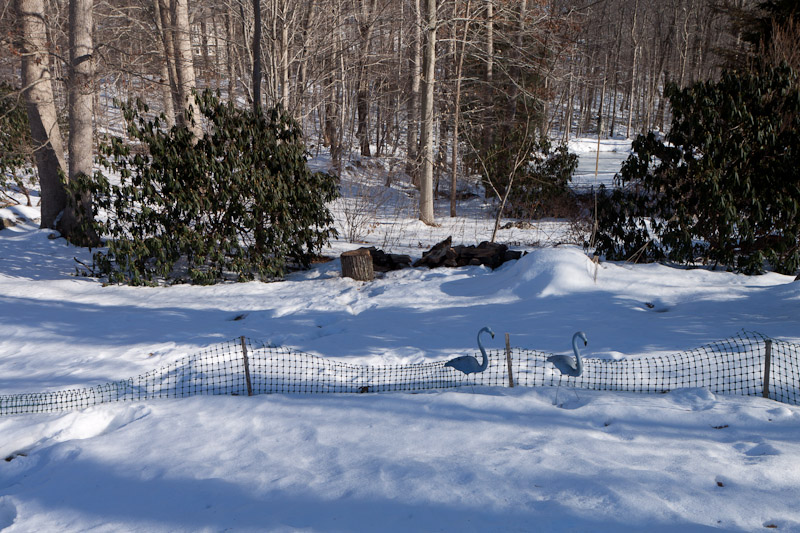 I've spent some time this winter reading Mountain Home: The Wilderness Poetry of Ancient China, (selected and translated by David Hinton), and Moment to Moment: Poems of a Mountain Recluse, by David Budbill, who lives up in the Northeast Kingdom in VT (both highly recommended, though I found the latter more accessible).
I was amused to find some titles in those books nearly as long as the poems themselves. In that spirit, here's another title for this image:
Walking The Trail to the Dwindling Woodpile (Which Has Warmed Us All Winter), I Step Across Zoe's Fence, Still Standing Despite The Rough Winter, Still Protecting the Blue Flamingos That Have Wintered Here, and Glance Over to the Base of the Twin Oak Tree Where the Buddha is Meditating Under the Snow, and Then Over At the Volunteer Japanese Maple, Now At Least Seven Feet Tall, and Then At the Pussy Willow Which Will Soon Be Budding, and Finally Over to the Pond With a Cover Of Ice Now Turning a Soft Shade of Blue, and I Think of That Goldfish Who Survived There Last Winter, Under the Ice, Only to be (Reportedly) Snatched Up By a Heron That Came Visiting Later in the Spring, and Then I Load That Utterly Simple Tool, a Burgundy Colored Cloth Log Carrier, Purchased for Maybe a Quarter at a Tag Sale Ten Years Ago, and Carry the Wood Back To Our Home.
{ 0 comments }